finally, the return of sketch night!  i used to goto something called Dr. Sketchy, but due to new management at the last venue, they've moved to a much better location.  sketch night is now at a comic shop that's been voted best in Orlando like 4 times in a row, A Comic Shop.  it's a fantastic store and the sketching actually takes place in a room in the back, called the Geek Easy.  it's got drawing table and everything!
anyways, let's get to the art!  we start as always with some 30 seconds quickies.  tonight, i really wanted to focus on hair and the flow of it.  so, you'll see that i go straight to that in most cases.
next, one minute sketches.  here, i'm still using the Copic sketch black marker.  i find the flow of the ink great for the fast paced action.
next, 2 minute sketches.  i started using a new 0.1 Copic multiliner, but quickly found that with it just wasn't enough time to get the level of detail i needed.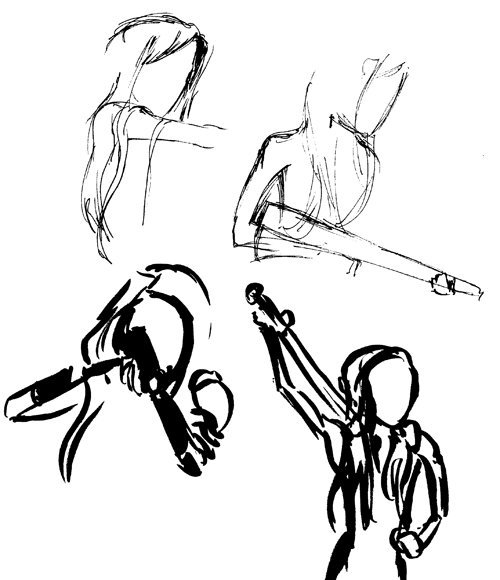 here, we have a 5 minute sketches, which allowed me to go back to the 0.1 Copic multiliner.  and with the additional time, comes more details.  as you start seeing, tonight's subject is actually from the upcoming Sucker Punch movie, featuring Sweet Pea, modeled by Jessica Steele.
onward to 10 minutes!  this sketch is my favorite of the night's.  (cause from here, it's just downhill!)
tonight's challenge was open-ended.  basically incorporate any element of the upcoming Sucker Punch movie into the art, such as orcs, mecha-robots, zombies, etc.  and this is where i started getting frustrated.  i started on one idea, got frustrated, then started on this one below.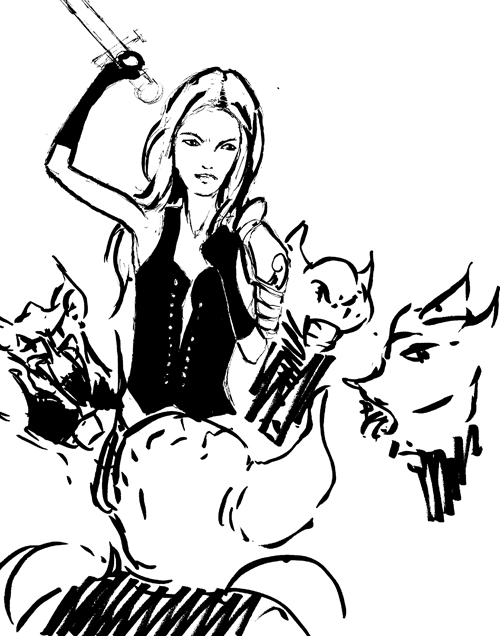 so, by the last sketch, we were back to 10 minutes and this was the best i could come up with.  actuallyhad some fun using a very thick pencil lead and instead of shading with ink and cross-hatching, this was some good 'ole pencil pressure for shading.